I'm back from my travels in Germany and I want to share some of what I saw there while I was away.
I visited two museums both with historical collections and programs of contemporary exhibitions.

Here is the van parked outside the first, The Keramikmuseum Westerwald at Höhr-Grenzhausen. A wonderful place full of interesting ceramics old and new - and it has a great cafe with home made cakes, good coffee and a wonderful view of Höhr-Grenzhausen and beyond from the terrace balcony.
The Cafe balcony.
Some photo highlights of the collection:

Here is a Head by Xavier Toubes - a recent acquisition made by the museum in May this year. I like the confrontational way it is presented, just plonked down on the carpet you are walking on.

One of the historical displays. A wagon loaded with the traditional stoneware pots of the region, separated with straw for transportation.

A seventeenth century cat. There is a hole in the back which gives it function as a vase or salt pig perhaps.
---
The museum I visited the next day was The Stiftung Keramion at Frechen.
This is housed in a magnificent building which seen from a distance looks like a giant potters wheel with a pot on top.

Inside there is a beautiful open space enclosed in a curtain of glass. The exhibition space continues down a curved staircase into the basement which is surprisingly well lit, due to the white concrete and the funnel shape of the inner building which brings light down into a central space.
" Zarte Flügel Dicke Brimmer" is the current exhibition on show in the basement gallery.

31.03.2019 to 11.08.2019
"Delicate wings, thick brummer - insects and other animals in the ceramic
insects - this is the theme of the Frechener KERAMION's first exhibition in 2019 from 31st March to 11th August 2019."
Link to www.keramion.de/aktuelle-ausstellung.php
Fly by Carolein Smit from Holland.
Of the contemporary artists on show I would single out the work of Regine Bruhn, which was new to me. She has a sense of playfulness which I appreciate. The first work of hers on display nearly went un-noticed by me as it was in the corner of the first cabinet and my eyes were initially drawn to larger things beyond it. Tiny porcelain monuments set behind dead insects.
Monuments to dead flies - Regine Bruhn.
Below are some more Regine Bruhn pieces. Tiny creatures made of porcelain and pieces of moss, butterfly wings, snail shells and small seed pods - all set in resin blocks, presented on a light-box.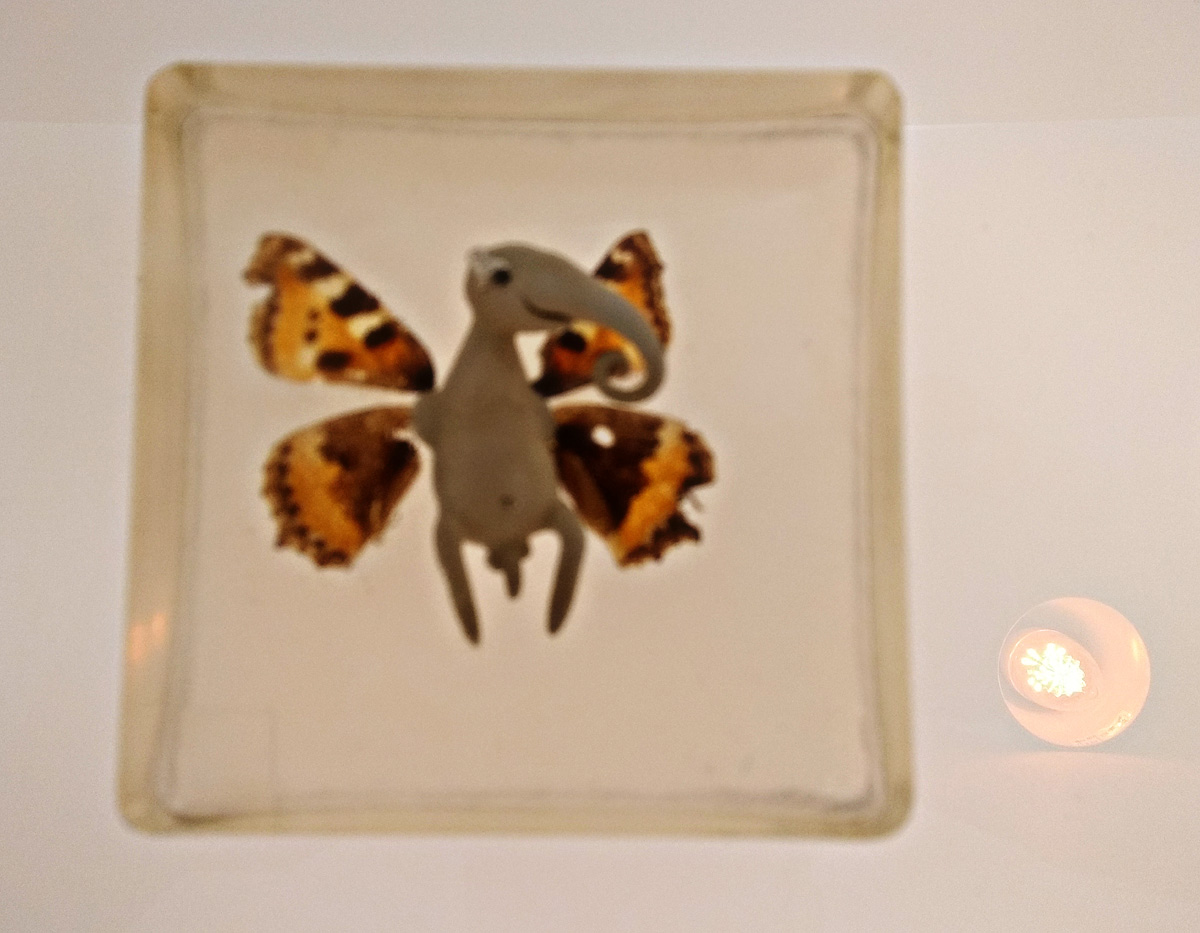 ---
The exhibition continued with a diverse range of modern and historical ceramics that feature insects.

And spiders..

---
As an annex to the basement gallery there is a large subterranean room which lights up as you enter. This is where the historical collection of locally made pottery is displayed. There is a wonderful diorama of a salt kiln. It is being loaded with pots on the left while a little man underground at the other end is ready to stoke the fire box. The model is cut through to reveal the workings of the kiln firebox, chambers and flues. Another figure stands on top of the kiln mound ready with a bucket to open the kiln openings and throw in salt.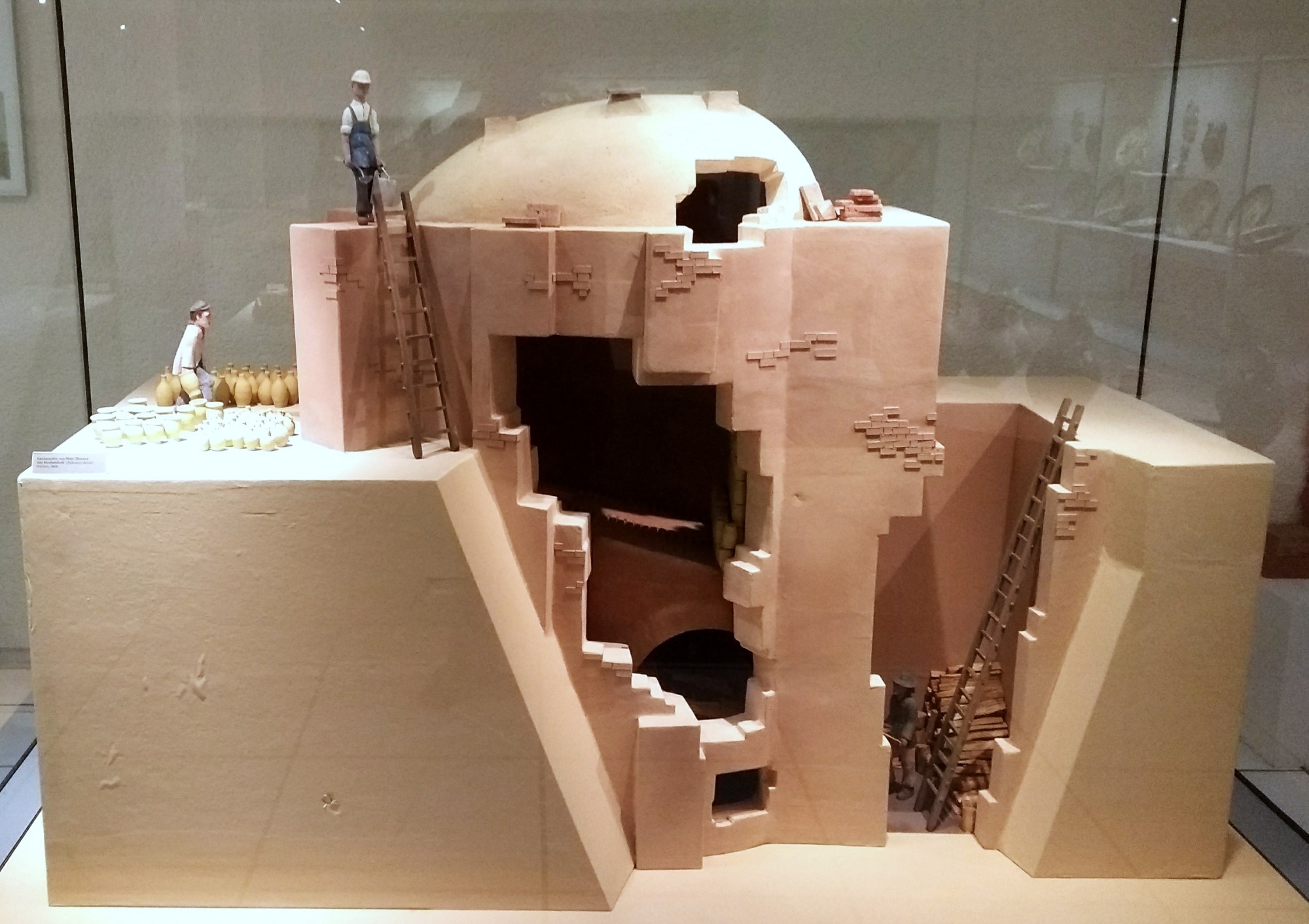 ---
The Keramion also has a large garden set about with a mixture of sculpture and large industrial ceramics.
All too soon it was time to go and head north for the Ferry at Ijmuiden that would take me back to Newcastle. Both places are definitely worth a return visit.