I have sent some new sculptural pieces Andrew Sinclair's Resipole Studios Fine Art Gallery. They are on display in Andrew's current exhibition from now - 18-5-2019 - until 28th June 2019.

They are not the usual black fired raku pieces but stoneware. The subject matter is a bit different too although there are some of my birds. I have been making hands with tattoos on their wrists. Some of the tattoos are picked out in platinum lustre which looks silvery but is in fact platinum fired onto the surface.

The hands come from an idea I had about female pirates of the 1700s such as Anne Bonny and Mary read, who by all reports were far fiercer than the men they sailed with.

One of the hands has a tattoo of a postage stamp so she was obviously a time traveller as well as a pirate!

Here is a snippet that may help as an introduction to the hand sculptures.

"Having suffered at the hands of pirates I was asked by the Sheriff if I could recall any distinguishing features that might mark my captors out. Visions from my nightmare swam through my mind and I was startled by the thought that all had not been what it had seemed. I had to admit the most ruthless of the pirates, though dressed in breeches and foul mouthed as any, may have been women."
Here is a taste of some of them:
Hand with perched bird. Reduction fired stoneware. 33cm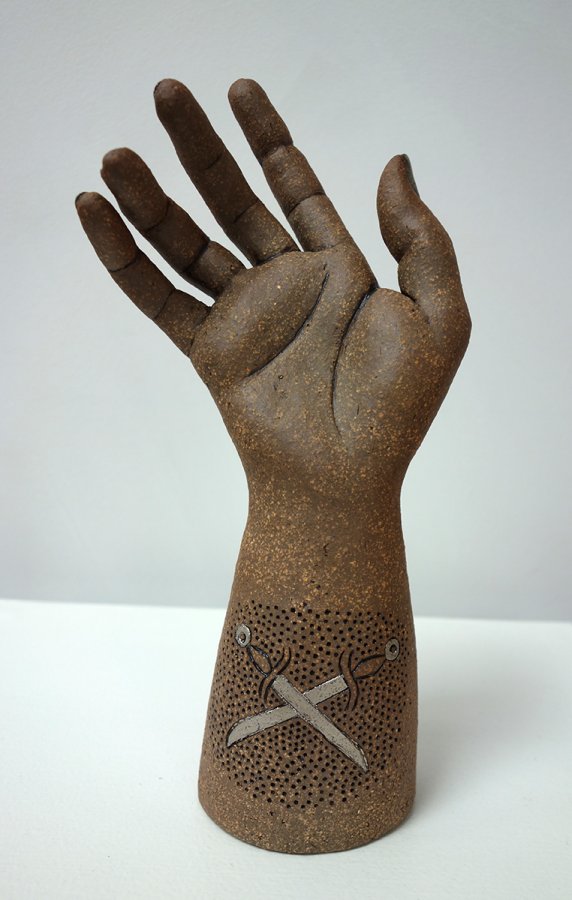 Hand with star and cutlasses tattoos. Reduction fired stoneware. 23 cm
•
Hand with star and anchor tattoos. Reduction fired stoneware. 21 cm
These pieces can be purchased through Resipole Studios.